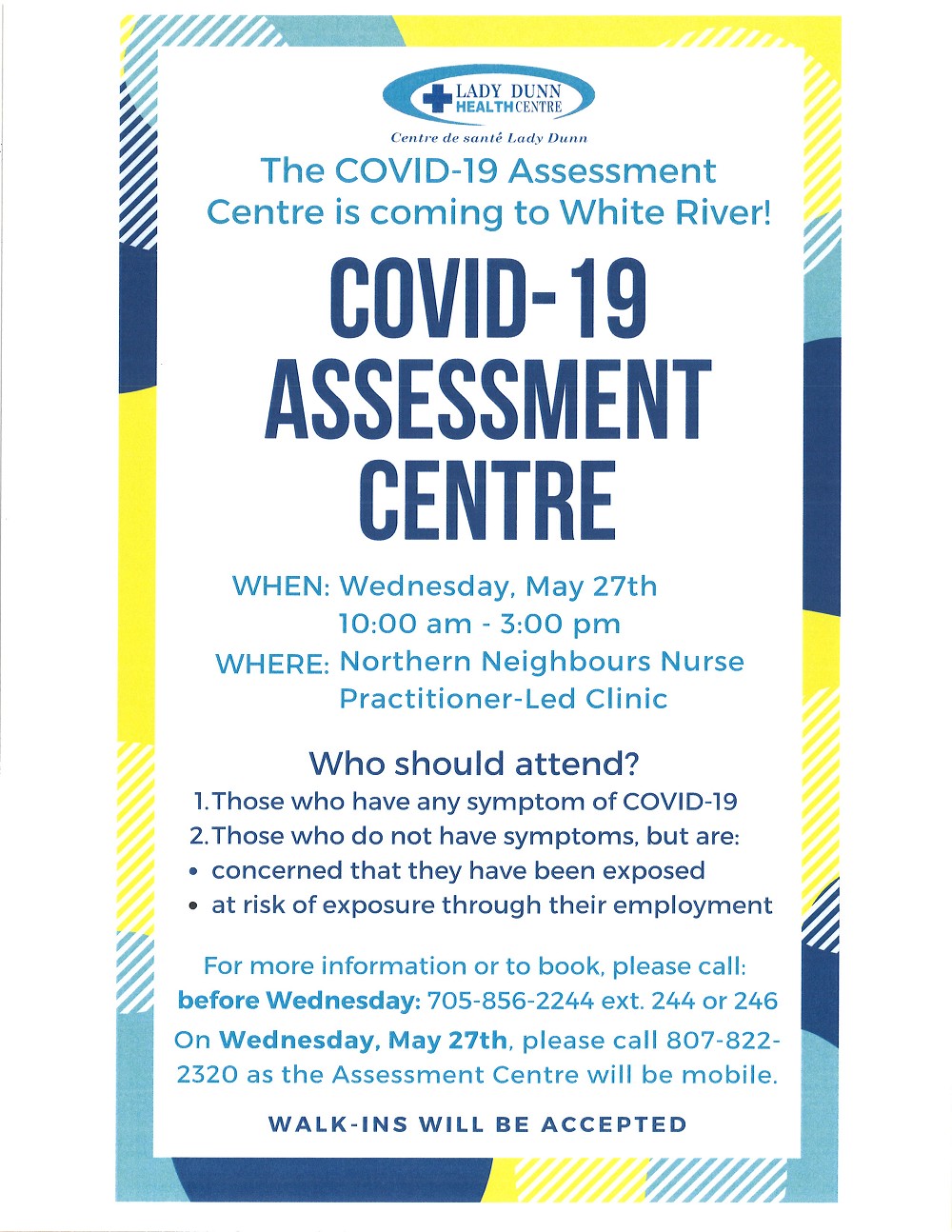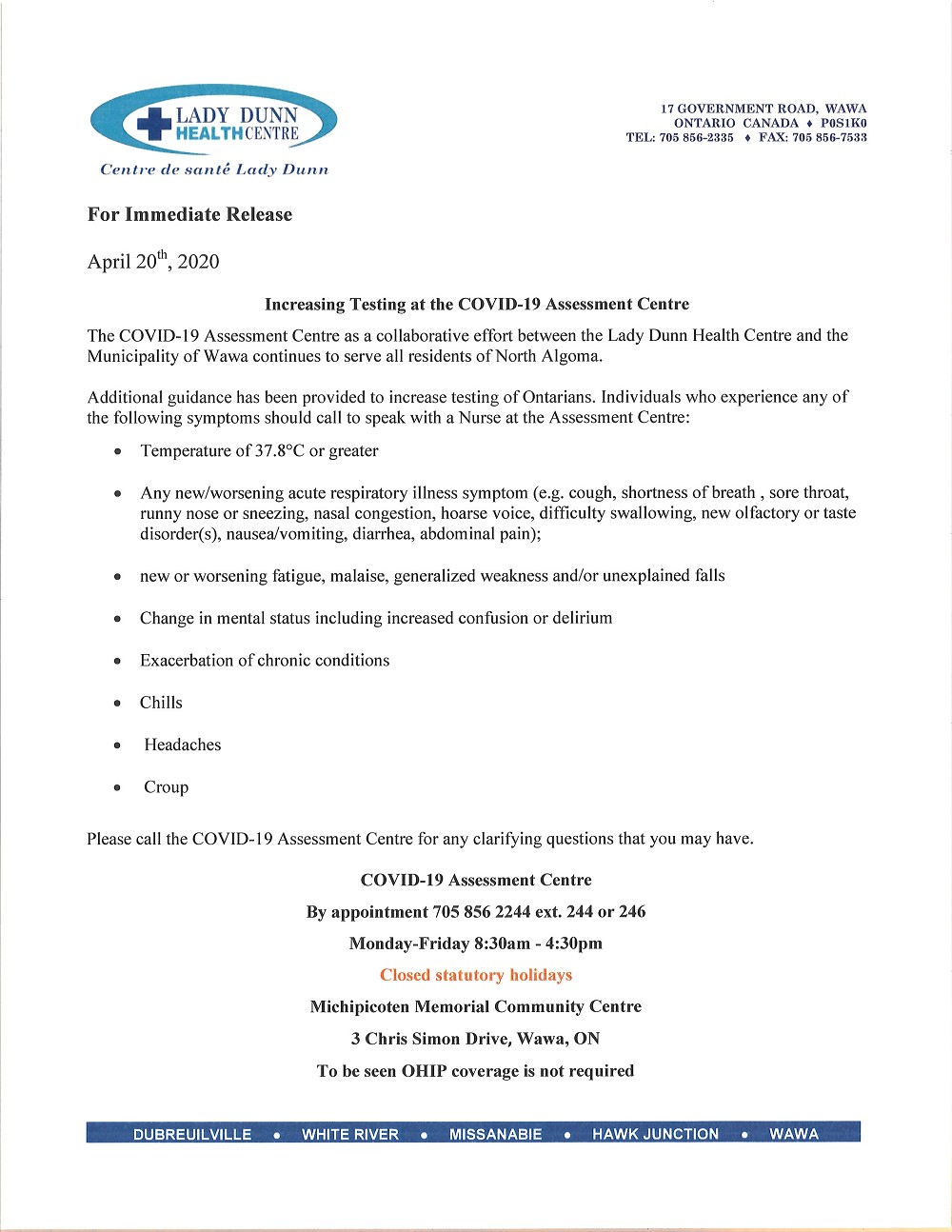 ---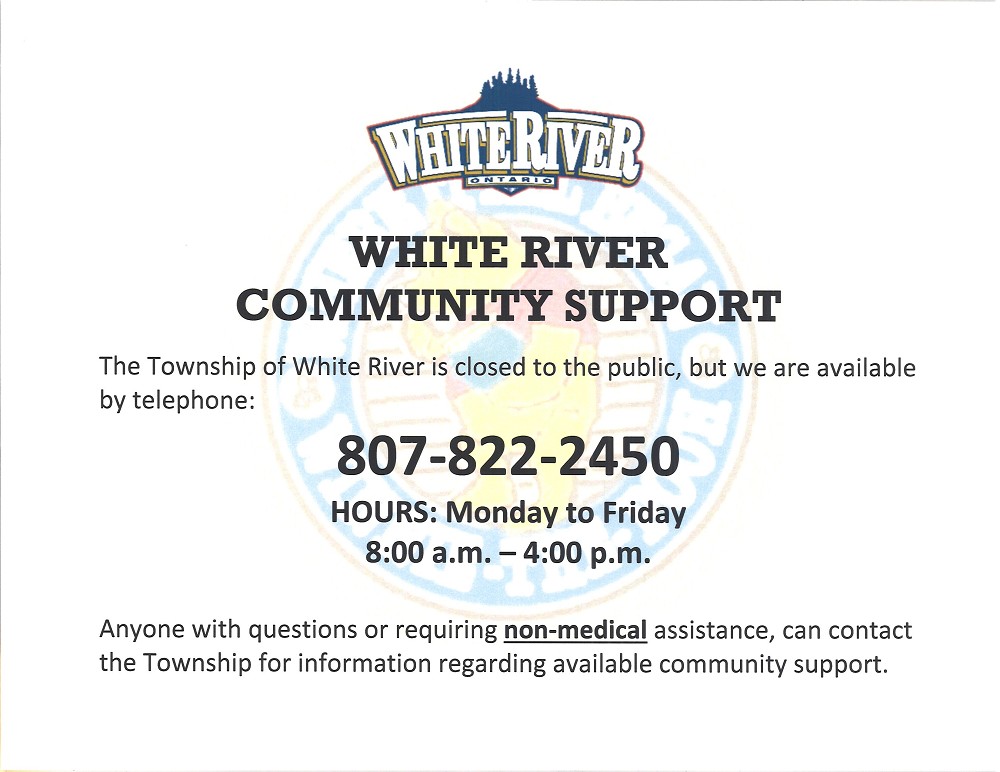 The Council for the Township of White River is working hard to limit the spread of the COVID-19 virus. We continue to monitor government and health agency directives. As you know things are changing daily. The health and well-being of our residents is of utmost importance to us, especially our vulnerable population. Although the municipal office and public buildings are closed to the public, staff will continue to work.
Please contact (by telephone) the municipal office at 807-822-2450 or by email to cao@whiteriver.ca if:
You have any questions
If you want to make tax or water and sewer payments by credit card
*Please note that the Township of White River will be changing the due date of the first installment of interim taxes from March 31 to April 30. You can also send payments by cheque through the mail.
SERVICE ONTARIO
The Service Ontario Office also offers a wide range of online services at www.serviceontario.ca
Here are just a few of the services offered together with the links for same:
If you have an urgent matter that cannot be dealt with online, please contact the Township of White River at 807-822-2450.
We are taking the following preventative measures to try to mitigate the severity and impact of this epidemic. Effective immediately and for the foreseeable future the following municipal facilities will be closed to the public:

Municipal Office/Service Ontario
Economic Development Office
Community Centre and Fitness Centre
Public Library
Museum
All indoor and outdoor recreation facilities and parks
PROTECT YOURSELF AND HELP US PROTECT THE OUR VULNERABLE POPULATION
Here are some tips gathered from governments and health organizations:
Wash your hands often – use hand sanitizer when available
Don't touch your face, so you do not spread germs that have gotten onto your hands
Avoid crowds in public areas
Maintain a distance of 6 feet from other people so that germs can't spread between people
Avoid all unnecessary travel
If you have traveled outside the country or have been in contact with someone who has traveled outside the country, you should self-isolate for 14 days
Seniors, people of poor health and those with pre-existing conditions should STAY HOME
If you are sick STAY HOME
If you have flu like symptoms including coughing, fever or shortness of breath STAY HOME and call the Northern Neighbours Nurse Practitioner Led Clinic at 807-822-2320 or Telehealth at 1-866-797-000 to discuss your symptoms. You can also use the Government of Ontario's Online Self-Assessment Tool.
---
Here are some online resources:
www.algomapublichealth.com
www.ontario.ca/page/2019-novel-coronavirus
https://www.canada.ca/en/public-health/services/diseases/coronavirus-disease-covid-19.html
*if you cannot access these sites, please contact the township at 807-822-2450 for printed versions